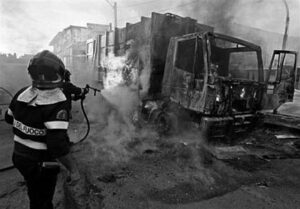 Burning garbage truck, Naples, 2008
Are Neapolitans excitable? The photo was taken during protests against not-so-good garbage collection in Italy's 3rd-largest city. At the time, there were some 200,000 tons of uncollected waste.  You can watch a garbage wagon burn on youtube
Dear friend of fine spirits,
Don Sutcliffe, Managing Director of distribution and sales for CraftDistillers, was working for Rémy Amerique when The Macallan was introduced to the US, and became good friends with Willie Phillips, for many years the managing director of The Macallan (he left when the brand was taken over in 1996). Don and Willie have collaborated on creating a brand rightly named The Exceptional. The first release, a blended grain, has just arrived: see page 19.
Crispin Cain, whose recently released gin was ranked #11 in Paul Pacult's annual ranking of the world's best distilled spirits, and his son Devin, have turned their talents and many of the same methods to vodka. DSP CA 162, named after the orginal Germain-Robin distillery where Crispin learned his craft, is clean, exceptionally smooth, and, in the infused versions, wonderfully flavorful: citron, lime, and tangerine. This is authentic craft vodka, produced by a master (p.16).
In October, the first shipment of Alipus from Santa Ana del Rio came in. Santa Ana has been sold in Mexico for more than ten years; we couldn't bring it in with the others because of delays in certification for export by the Mexican authority COMERCAM. It is beautiful mezcal, unusually soft, unusually cleanly distilled (p.11).
Ansley Coale