Vodka & Gin
Vodka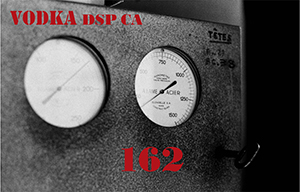 The real thing. 5 stars from Paul Pacult. Craft-method infusion using exotic true fruit from the fabulous rare-fruit orchards of John Kirkpatrick in the San Joaquin Valley.
DSP CA 162 was the federal registration number of the original Germain-Robin distillery, up on Ansley Coale's ranch (1982). That's where Crispin Cain of Tamar Distillery learned how to distill, apprenticing with the great Hubert Germain-Robin.
DSP CA 162 shows exactly what's important about hands-on craft-method distillation: preserving the fresh taste and aroma of the fruit, deriving flavors and aromas that are clean & pure, distilling a  smooth and lingering spirit. Nothing in the bottle but enjoyment. Zero roughness, zero rubbing-alcohol smell. DSP 162 makes great cocktails because you don't need that ton of sugar used to conceal harsh alcohol.
…about as far from commercial as you can get… captures the very best of what wheat and grapes bring to the equation in a vodka, and manages to present those flavors like they were designed from the start to go together….It's hard to remember savoring and exploring a vodka as much. products that defy the flavored vodka category. The DSP 162 vodkas aren't just flavored vodka, they are a presentation of the essence of things and represent an exciting new direction for the vodka category.
–Geoff Kleinman/Drink Spirits
DSP CA 162 Straight Vodka

Vodka hand-distilled from premium Mendocino viognier grapes is blended into vodka distilled from wheat (round mouthfeel). The "Straight" is amazingly smooth, zero of that rubbing-alcohol aroma.

750 ml / 40% abv

---
Fruit-infused Vodka
Russell Henry Gin
Craft–method gin from the talented distiller Crispin Cain. Crispin infuses his gins with rare botanicals and with real fruit (Malaysian lime) and real spice (the rhizome of organic Hawaiian ginger), distilling on both a small Holstein potstill and the 16HL Germain-Robin antique cognac still.
Folks ask: another gin? Well, Crispin and Ansley Coale thought there was a lot of room for improvement by using the finest craft methods.  So did Paul Pacult: his Spirit Journal's 2013 list of the world's 120 best spirits ranked Russell Henry as no. 11; the next best gin ranked 54.  "A stellar example….new landmark in American gin-making. ★★★★★ Highest Recommendation".